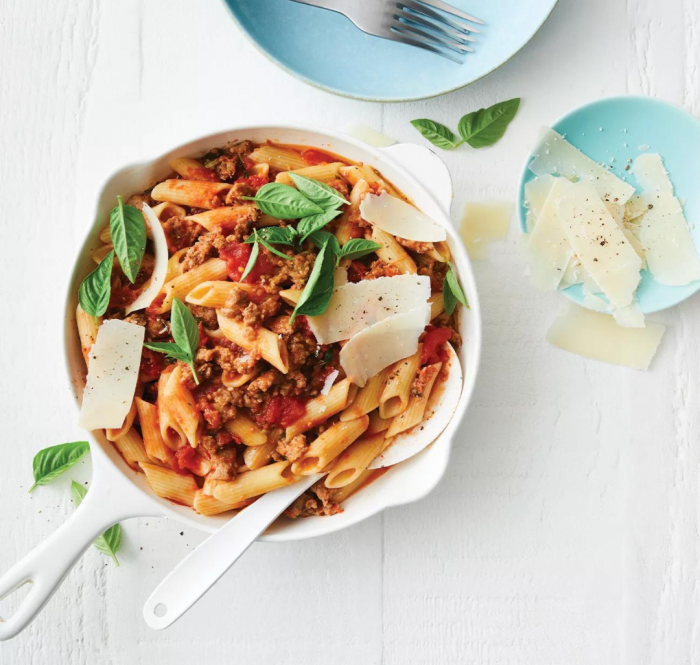 Woolworth's Speedy Sausage & Tomato Pasta
An easy homemeade vine-ripened tomato and basil pasta sauce with beef, herb and garlic sausages. This penne pasta will be a hit at dinner time.
Ingredients
375g penne
600g Woolworths beef herb and garlic sausages
1 tbs extra virgin olive oil
1/2 bunch basil, leaves picked, stems reserved
800g canned Ardmona whole peeled vine ripened tomatoes
40g parmesan, shaved (to serve)
Method

Cook pasta according to packet instructions. Drain.

Meanwhile, remove and discard casings from sausages. Heat oil in a large, deep frying pan over high heat. Crumble sausages into pan and cook for 5 minutes, stirring occasionally, or until browned.

Add basil stems and cook for 1 minute, stirring, or until fragrant. Add tomatoes and bring to the boil. Reduce heat to medium and simmer, covered, 8 minutes or until sauce has thickened. Discard basil stems.

Add pasta and half of the basil leaves to tomato sauce and toss to coat. Top with parmesan and remaining basil leaves. Season with pepper and serve.